5-Star Sciatica Pain Relief In Cobourg
Start Living Life To The Fullest
Sciatica is caused by compression on the sciatic nerve and the pain can be excruciating. The low back pain that radiates down the back of the leg can be debilitating.
At Herron Family Chiropractic, we understand how discouraging it can be to complete even the simplest of daily tasks with this pain and we are here to alleviate your sciatica.
We believe extraordinary sciatica care should be accessible to everyone and we are proud to offer our $35 New Patient Special.
Start living a life free from sciatic pain –
Call (905) 377-0555 or book an appointment online now!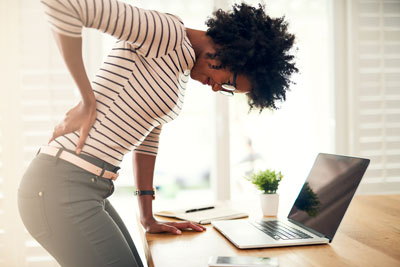 $35 NEW PATIENT SPECIAL
Includes:
Initial consultation

Thorough exam

X-Rays (if needed)

Follow-up visit

Group report (significant other is welcome to attend)

1-on-1 Report of findings

Doctor's best recommendation for care
Call us at (905) 377-0555 today!
Personalized Sciatica Treatment
We provide advanced sciatica relief utilizing "state of the art" chiropractic techniques. Never in the history of chiropractic have we been able to provide the level of help and expertise that now exists.
These newer correction methods are even safer, more comfortable and more effective than ever before. We'll explain to you what to expect before giving you an adjustment so that there are no surprises.


TESTIMONIALS
Very friendly staff. Dr. Peter's introductory lecture was very informative. Thank you!

Peter, Amy, and Deb work great as a team and get you the help and service you need. It is done with simple and easy to understand language.

I wasn't expecting relief in a short period of time! Yahoo! I was not expecting such a thorough explanation which has made me realize that I wasn't going to get better overnight. Very much appreciated! The front desk was excellent as well.

Warm family feeling office, great people, very fast appointments. I have learned a lot. Thanks, guys!

Before treatments  with the chiropractor I could not move without pain when attacks of acute back pain occurred. After receiving care back pain is less frequent. There seems to be improvement in the neck area as well.

Very professional and ready to help!

This maybe unusual, my very first visit I got adjusted and for the first time in a while was able to sleep. I felt less and less stiffer in the morning. This doctor is an amazing chiropractor and a great listener.

After years of suffering from back pain, I have faith that Dr. Amy can help me. Excited to start my weekly adjustments. Thank you for being there.

The family environment is very comforting and you can truly feel that the care for overall health is a priority.

Before treatments I could not easily turn my head and my upper back was always tight. I now have full flexibility with little or no pain. This has been achieved over constant maintenance. I feel pleased with the treatment and his willingness to do some requests I have made even though it is against his preferred method.

After reading your flyer I first insisted on my partner giving it a try. After a few months and seeing the positive I started coming as well and truly believe that I have never been healthier and have felt great for the past year! Thanks you all. It is always a pleasure coming into the office as it is a very positive environment!

Love that it is such a friendly and up beat environment. Also, a great process upon arrival for my appointment.

I always feel welcome, comfortable and at ease in this office. I have complete confidence in this practice.

The office has a friendly environment and is operated very efficiently. Dr. Herron and his staff are very approachable and helpful with regards each individual's medical needs.

Book Your Appointment Online

You Don't Have To Live In Pain.
Call Us Today! (905) 377-0555

Experienced Sciatica Chiropractor Serving Cobourg and Surrounding Areas